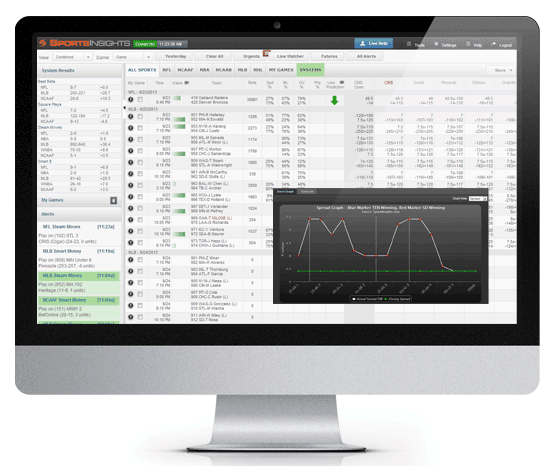 The Ultimate Sports Betting Tool +
4 Days Of Our Picks
With Sports Insights you'll get real-time odds from 50+ sportsbooks, full public betting trends across seven sportsbooks, and our data-driven picks based off our own winning systems.
Try it for $49

Get Started Today!
NO COMMITMENT
IF YOU DON'T LOVE IT
VIEW LIVE ODDS FROM 50+ BOOKS
You'll get real-time data from more than 50 sportsbooks which includes steam move alerts, link watcher alerts, live scoring, and live game progress odds. We've got all the information that you need on every game --
in real time
.
Get Started Now!

Try for just $49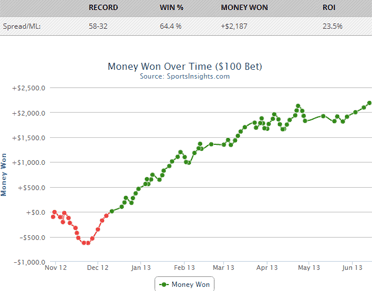 1. WINNING PICKS
Simply put - our software works. We've been using it for years to make picks and we've now begun sharing this info with our members. We release data-driven plays based off of scientific systems which we accurately track and share. No touting, short-term trends, or selling. Just plays based on cold hard data. View all of our historical plays and payouts here.
2. BETTING TRENDS
If you're a fan of fading the public, you'll love our software. We have proprietary data on public betting trends from seven different sportsbooks. This allows you to not only bet against the public, but also anticipate line moves based on volume.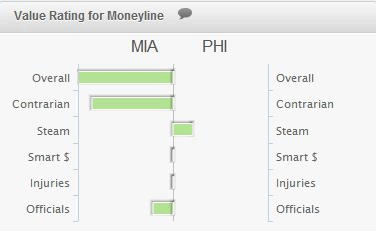 3. VALUE METER
Our new Value Meter analyzes Contrarian Value, Steam Moves, Smart Money Plays, Key Injuries and Official/Referee trends for every matchup on the board to quickly show which games are offering the most value.
4. ALL-IN-ONE GAME INFORMATION DASHBOARD
With one simple click, members can access all pertinent information specific to each game, including: Public Betting Percentages, Line-Movement graphs, Key Injuries, Betting System Plays, Weather, Referee/Umpire information, and Value Meter Rating.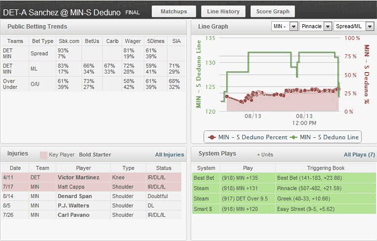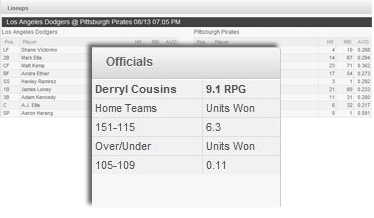 5. LINE & REFEREE STATS
Instantly access runs/points per game, home/away bias and over/under bias for referees and home plate umpires.
Get Started Now!

Try for just $49
Get your no risk, no obligation, $49 trial today!
Why Sports Insights?
Real time odds from 50+ market-setting books
Betting trends from 7 sportsbooks
Our data-driven, scientific plays
Betting percentages for spread, money line, parlays, and totals
Breaking injury & weather alerts
Steam Move Alerts
Line move prediction tool
Line watcher alerts
Full game, half time, quarters/periods odds
Live in-game odds
Easy to use and customize
Live scores
Who loves using Sports Insights?
"Sports Insights allows bettors to not only keep tabs on odds, but also to anticipate line moves. The game-specific dashboard is a legitimate time-saver and a must-have for serious bettors."
- WAGERMINDS.COM
"For example, Dan Fabrizio of the sports betting info site SportsInsights.com enlightened me the other day when I called him to talk about the Week 16 NFL line moves. His site, which I wrote about earlier this season and which got a nice write-up in the Wall Street Journal this week, is as rich as it gets when it comes to the academic study of gambling."
- CHAD MILLMAN, espn
"SportsInsights.com helps you determine which games the public is on, making it easy to be on the same side as the house, which will generally come out ahead over time."
- ALLEN MOODY, About.com
Pro
$249
per month
TRY IT FOR $49

FREQUENTLY ASKED QUESTIONS
Can I test your software before committing to a full month of service?

Yes! We offer all new members a special, low, introductory rate of $49 for 4 days to try the software out.

How well have your picks performed historically?

Our Best Bet picks, which are the plays handpicked by our team of sports information analysts, have historically won at a rate of 54%-55%.